Auburn Auto Doctors
Serving Placer County 2011
Auburn Auto Doctors provides customers with the best automotive service and repair in the Auburn, CA area. We do this by providing our customers with a friendly and professional atmosphere where they can be educated about the needs of their vehicles.
Auburn CA

Trusted Auto Repair Mechanics

Auburn Auto Doctors has been Auburn's trusted source of auto repair & service since opening our doors in 2011. Our shop works on all makes and models of vehicles.

When in need of a professional and reliable place to have a car, truck, or SUV fixed or serviced in Placer County, look no further than our shop in Auburn. Auburn Auto Doctors is proud to have a reputation as a trusted locally-owned business. Our team offers an experience that is unequaled by any other auto repair shop in Auburn, and we are committed to nothing short of exceptional customer service to all those who choose our shop for their automotive repair needs when it comes to keeping their vehicles operating efficiently and smoothly.

Why Auburn Auto Doctors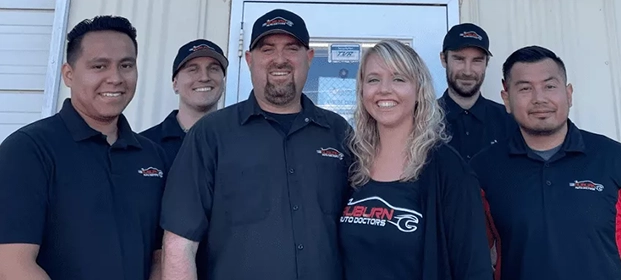 Family Legacy: Auburn Auto Doctors understands better than any other auto repair shop in Placer County the true value of integrity, trust, and personalized client service. When bringing a vehicle to our auto shop for repair or service, our clients are treated as one of the family and your vehicle is taken care of as if it were one of our own.
Experience Matters: With decades of automotive repair experience, our technicians are professionals that have the skills and expertise to diagnose, repair, or service nearly any type of vehicle issue. From an ordinary oil change or brake job to a complex engine problem diagnosis or an electrical issue, Auburn Auto Doctors has what it takes to get you back on the road.
State-of-the-Art Shop: Auburn Auto Doctors takes pride in the fact that we stay up-to-date with all of the latest automotive technology. Our Auburn auto repair shop is equipped with the most advanced tools and equipment for diagnosing and finding problems. This enables our technicians to accurately and efficiently repair any car, truck, or SUV.
Quality Service & Parts: Auburn Auto Doctors uses the best quality parts for all repairs and replacements. We have established strong relationships with the industry's top suppliers of automotive parts to ensure our clients get only the best components that either meet or exceed industry standards. Not only that, but we stand behind our work with a 3 Years, 36,000 Mile Warranty on most repairs.
Client Satisfaction: Auburn Auto Doctors puts our clients at the center of everything we do. Our team's goal is to offer customer service that is nothing short of exceptional so that we develop solid relationships with every person that comes to our auto repair shop in Auburn. Nothing lets us know we are achieving our job more than when a customer drives away with a smile on their face.
Competitive Service Rates: Auburn Auto Doctors knows more than any other auto repair shop in Auburn that our clients expect to be treated fairly. So when it comes to our service rates, our shop offers pricing that is competitive without any compromise on the quality of our service. We provide estimates that are detailed and transparent to avoid any unwanted surprises.
Look around our website and if you have any questions, don't hesitate to drop by or phone us at 530 852 0330. We are open Monday through Friday and are here to help you.